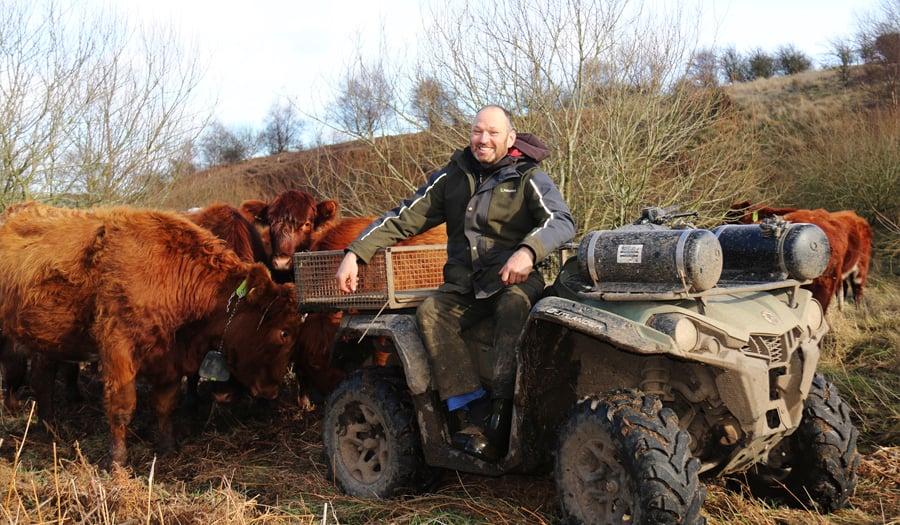 Nofence system proves its versatility on RSPB nature reserve

by Victoria Lillestrøm
12. may 2022, 3 min read time
This article was written by Cumberland and Westmorland Herald agricultural reporter Guy Hurst. It originally appeared in the March 2022 farming special.
The versatility of a hi-tech system developed to restrict the movement of livestock without the use of barbed wire fencing has impressed the farm land warden at the RSPB nature reserve at Geltsdale, in the North Pennines.
Ian Ryding says the Nofence virtual fencing technology has proved its ability to keep cattle out of large areas of sensitive habitat, but can also safeguard small individual patches just a few metres square, such as those around the vulnerable eggs and young offspring of ground nesting birds.
The GPS-based system has also impressed farmer Ian Bell, of nearby Hallbankgate Farm, Hallbankgate, who particularly values its ability to pinpoint the location of his cattle on the rugged fellsides at Geltsdale, where there are many hidden dips and gullies, as well as patches of scrub woodland.
Originally developed in Norway for mountain grazers, Nofence has been in use on the Tarnhouse Farm section of land at Geltsdale — running to about 2,200 hectares out of a total reserve area of 5,500 hectares — since 2020, with the RSPB and Ian Bell being among its very early adopters in the UK.
It utilises GPS to allow farmers and land managers to create "virtual pastures" with an app on their mobile phones. Once livestock are turned out on the selected grazing area while wearing a Nofence collar, GPS and a mobile data network track their location and report back to the app.
As an animal nears the virtual fence boundary, its collar emits an audio signal. If it continues to move forward, it receives an electric pulse — which, according to Ian Ryding, is much less severe than the shock from an electric fence. "It's more the surprise of the sudden pulse that makes them turn back, not any actual pain," he said.
This sequence of audio warnings, followed by a possible pulse, can happen three times. If the animal breaches the virtual boundary following the third audio cue, the farmer receives a pop-up notification through the Nofence app giving the escapee's location.
Read about the benefits of virtual fencing here
Animals can return to the designated pasture to rejoin their herd without receiving any audio warnings or pulses, which Ian Bell says is what has always happened when one of his cattle has wandered at Geltsdale.
He keeps around 120 breeding females on the fellsides at the reserve, most of them Luing cattle — originally a cross between the Highland and Beef Shorthorn breeds — together with a few Belted Galloway.
Most graze up to around 400 metres above sea level, all year round, and get only enough supplementary feed to teach them to come to Ian when he wants them to. "I feed them once a fortnight, just a bucket full or so between them, and there's even one that never eats it — she just doesn't like the taste," he said.
The Luing heifers are put to the Charolais bull — Ian has a herd at Hallbankgate Farm — to produce a more marketable calf.
He sells his cattle through the marts at Carlisle and Longtown, and says buyers value the taste of their beef, with one local butcher maintaining it is the best he has come across. This is down to the varied diet of the cattle, which includes hawthorn berries — a particular favourite — bark and leaves.
Regarding the Nofence system, Ian said: "It a really good way of controlling the cattle — it's definitely a massive help to know exactly where they are. It's not a big deal keeping on top of the batteries, which can last up to four months depending on the animal."
Each collar is fitted with solar cells to help keep the batteries topped up, and the GPS units are solidly encased in plastic for protection.
At Geltsdale, the collars are initially fitted to the young heifers for a short training period in a smaller paddock, with Ian Ryding saying they usually take only a few days to learn how to react.
With initial funding from the North Pennines Area of Outstanding Natural Beauty Fellfoot Forward project, 19 collars, each costing £269, were bought for the reserve.
In the first grazing season, they were used to keep the cattle off an area with ground nesting birds and, with the stock having been increased to 22 collars, they are being employed on cattle grazing on the east side of the 240-hectare Bruthwaite woodland plantation, in a 60-hectare Nofence enclosure.
The plantation is a new woodland area, planted with 110,000 native trees, including hawthorn, rowan, alder, birch and sessile oak. The trees were allowed to become established and grow in a natural way before the cattle were put in to graze.
The intention was for the cattle to create disturbance, trample bracken and allow areas to be grazed that had not seen livestock for 15 years – all the while keeping cattle away from footpaths and reserve infrastructure.
The fact the woodland can be easily divided using the Nofence system fits in well with the fact there is a cattle grazing supplement on 50 hectares at the reserve under Countryside Stewardship.
Ian Ryding said: "It has been an objective to have cattle in the planted area and we were waiting for the right technology to come along — which is where Nofence comes in. It allows us to basically split the woodland area into thirds and pulse graze each area at the right time, to create open scrubby woodland."
He added that he had also been impressed by how Nofence are continuing to develop their system, to make it easier to use and more versatile.