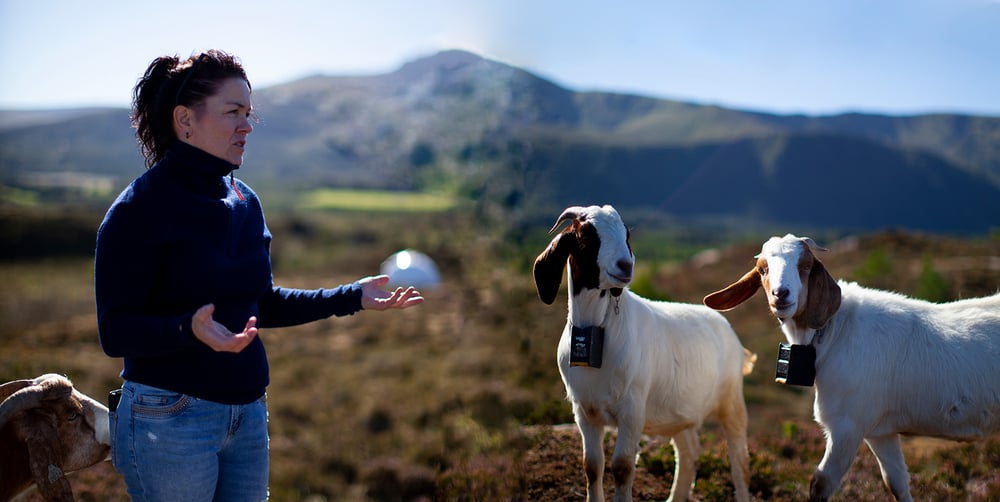 Government goats

by Jacob Bentzen
23. january 2023, 3 min read time
Something out of the ordinary is happening at the nature reserves Langøya and Sandblåst/Gaustad in Norway. In what were supposed to be overgrown, but empty logging fields of recently harvested forest, a bunch of long-eared Boer goats graze seemingly without a shepherd. What's more, they graze without fences...
From spruce to grass
Taking care of Norway's scenic nature is not always easy. Mountains, forests, water and weather; the elements that make the country so beautiful can also make everyday life difficult for those left with the maintenance responsibilities. The scrub growth at Sandblåst/Gaustad, for example, meant that the area was in danger of becoming inaccessible to the large proportion of migratory birds that thrived in the area. But instead of using machinery or chemicals to sort the problem, the government and the landowners came up with a more creative and environmentally friendly solution.

"The challenge is the deciduous forest that grows up after the spruce has been felled," says Linda Haug, who together with her total of 51 four-legged employees performs a very special kind of landscaping service. "For goats, this area is terrific. As shrub-eaters, they are perfectly suited to clear this type of landscape, and the effect is significant."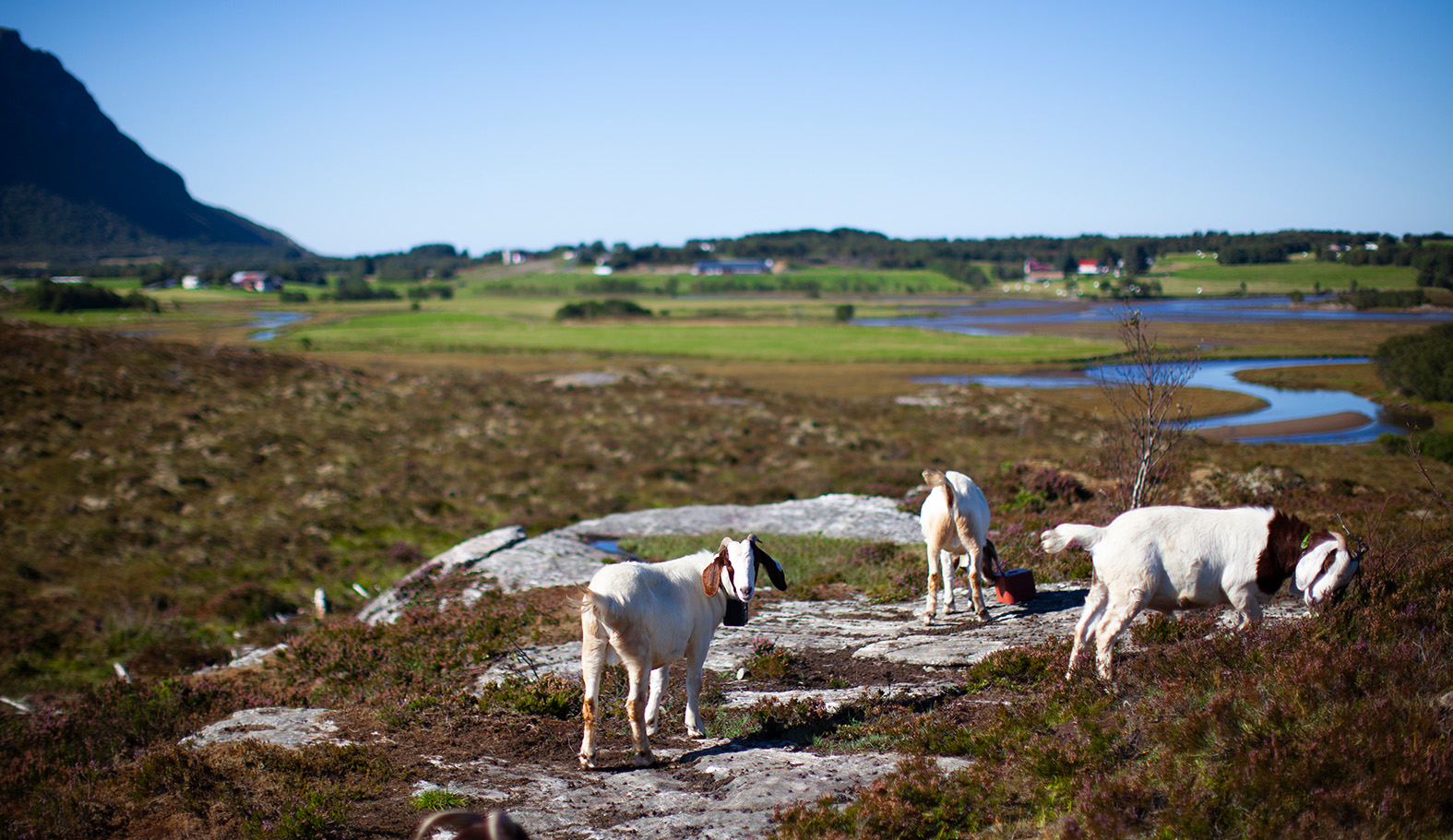 These pilot projects with the goats came from the Norwegian Environment Agency, and include a continuous "estuary". The reserve was established in 1988 to "preserve an important wetland," and in 1996 was granted special protection due to its importance to migratory birds.

But how can it be that these goats are so effective? They don't comb the entire area perfectly, and it also takes longer than if you were to use a chainsaw or chemicals. So what's the secret?

The key lies in the soil, or rather in the way the goats contribute to a process of change in the soil. The first thing that happens is that the animals thin out thickets and weeds by grazing them down, and with fewer leaves and shrubs, the ground gets more sunlight. Then the nutrients are recycled in the goat's digestive system and returned to the soil as fertilizer—and that is when the real change begins. Where before there was a lot of resistance, little sunlight, and virtually no fertilizer, there are suddenly inverse conditions. That means a change from nitrogen-rich soil to a more bacteria-based one, and that doesn't encourage forest growth. With thorough grazing over time, it will therefore be replaced with other species such as grass and flowers.

"We also tested it at home. We used to have a lot of old and dry heather," says Linda, "but after we had the goats there it's become incredibly nice, and it's much lusher than it used to be."

In other words, it could be that goats are the future of maintaining Norwegian nature. The question is, why isn't the country crawling with goat-grazing operations like these already? Why is it only now becoming popular?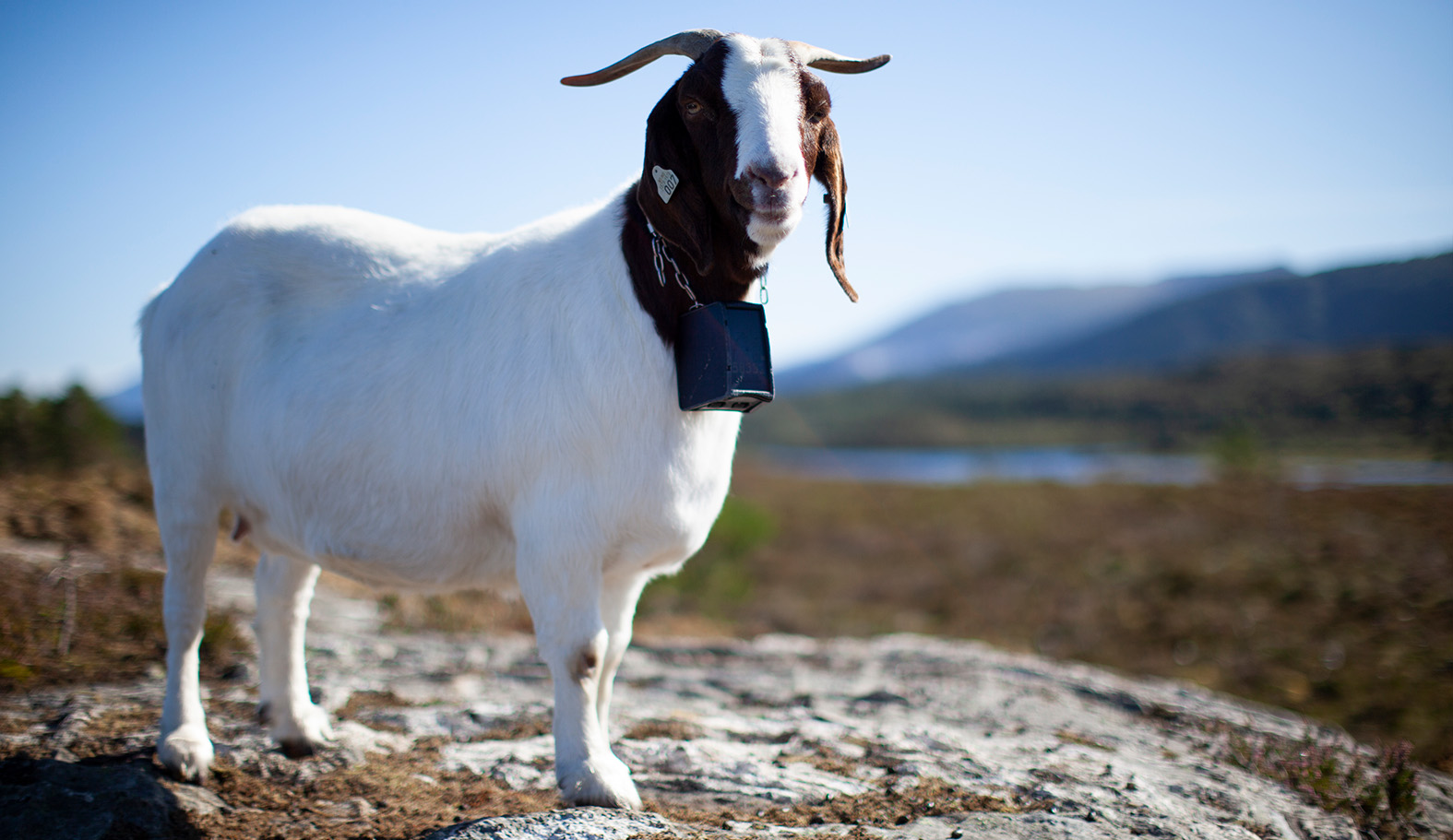 Game-changing tools
One of the main problems has been that goats are curious animals that like to go on adventures, and it therefore takes an enormous amount of time and effort to fence in new areas for each project. But not for Linda.

"You might call me a modern goat farmer," she says, smiling. Her goats use special collars from the Norwegian company Nofence, which created the world's first virtual fencing solution for livestock. The first thing Linda does in the morning, before brushing her teeth and having her coffee, is open the Nofence app. It shows where the animals are and how they're behaving, and she can even move the goats by opening and closing parts of the virtual pasture.

"Setting up and maintaining fences is a serious burden on livestock farmers," says Oscar Hovde, Founder and CTO of Nofence, who started the company in Batnfjordsøra in 2011. "With virtual fences, you have better control and you free up time and labor for other projects."

"It would be impossible to have the goats here without Nofence," Linda explains. "The animals that graze with collars know exactly how far they can go. It's amazing how they learn it, and once one has tested the limits, the others usually follow suit."
A green future ahead
Linda bought her Boer goats in 2008, many years before the virtual grazing technology was available, and it wasn't until 2016 that the first customers were able to test the collars. In fact, Linda was so intrigued by its potential that she became the first employee of Nofence and contributed to its success for four years.

Due to climate change, sprawling vegetation, and the possibilities of virtual fences from Nofence, she then decided to go all in on landscaping with goats again. She also offers manual landscaping with a clearing saw or chainsaw, or with a tractor and heavier tools for larger areas. In other words, she offers a total package for natural landscape care.

Want to know more about Nofence? On the website, you will find plenty of information about the product, news more customer stories like this one.