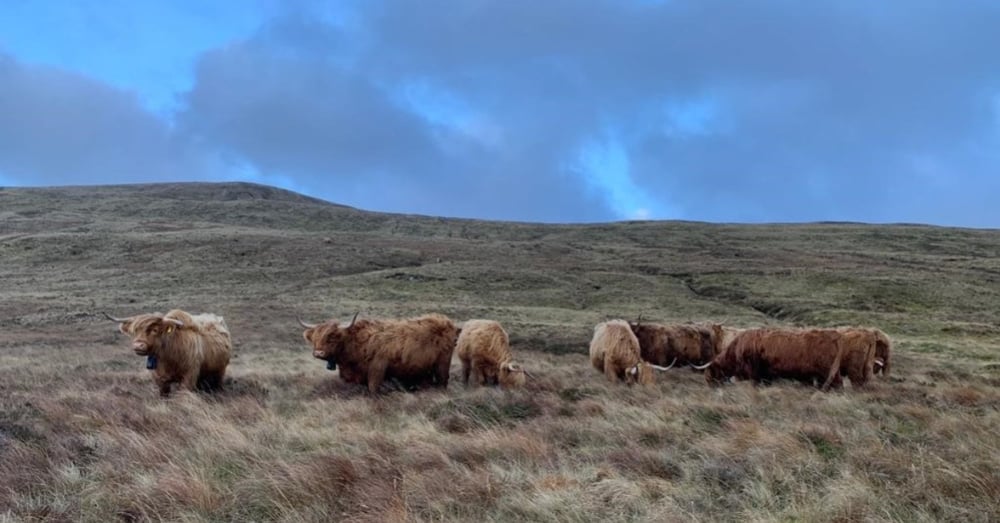 Virtual fencing technology allows Scottish farmer to capitalize on marginal grazing while making environmental gains

by Laura Wise
4. may 2023, 4 min read time
"The Scottish Highlands is a beautiful part of the world. They are rugged, wild, dramatic and stunning, but they can also be pretty brutal," says Jez Robinson of Braes of Foss Farming.

Located in the Highlands of Central Scotland, Jez and his wife, Ali, are in the midst of a generational turnover in management that is allowing the couple to marry profitability with environmental improvements on the nearly 4,500 acres of Dalchosnie and Kynachan Estate.
Underpinning this now seven-year transition has been the genetic development of their 75-head herd of pedigree Highland Cattle and Highland Cattle crossed with a Whitebred Shorthorn bull. The farm adopted virtual fencing technology from Nofence in 2021 to improve grazing management on thousands of acres of unfenced upland grassland and this has been an important enabler of their model.
"Our philosophy has been to establish an extensive system which would be productive but place nature firmly at its heart; continually improving the ground through grazing a hardy native breed suited to the hill whilst employing minimal inputs," explains Jez.
With very little lower altitude/high-quality acreage known as in-bye ground, the model has to be focused on marginal hill grazing. This means taking advantage of the natural herbage, flora and fauna but also continually improving the hill through extensive grazing by cattle genetically developed for upland grazing.
"There is much science to support the benefits of cattle on the hill, and anecdotally, we have seen the benefits from year one of the transition," says Jez. "The most obvious benefits have been through a very noticeable increase in bio-diversity, wader bird numbers and heather regeneration – the latter often visible on areas previously dominated by Molinia grass."
To get the full environmental benefit of increasing cattle grazing numbers on land that has historically been grazed predominantly by sheep, the farm opted for Highland Cattle genetics to maintain a smaller framed, hardy animal that is capable of thriving on the hill year round while still yielding quality beef.
"The Highland Cattle breed is absolutely the animal that should be in this part of the world – they are light-footed, tough and highly agile which allows them to thrive when they are out foraging on the hill. The Highlanders come in-bye only for calving and you can tell they hate being in fields band yearn for the hills," says Jez.
To reach maximum financial potential while also meeting desired environmental goals, the farm has started to put a White Shorthorn bull onto pedigree Highland Cattle. This allows them to maintain the type of animal they need to remain productive on the hill while capturing growth and performance benefits from the hybrid vigor achieved in a first-generation cross.
"The White Shorthorn has been an excellent cross to add more frame to the Highland Cattle without compromising hardiness. Even when crossed with the Shorthorn, the Highlander remains an easy calver whilst maintaining a good supply of milk for the fast-growing cross-calves," explains Jez. "Currently all of the cross-calves are sold at around 12 months. The model allows us to maintain an animal that is suitable to this tough environment whilst producing a calf that can be sold at a premium for breeding or finishing."
As the farm continues to build up its herd numbers, all pure-bred Highlander heifers are retained for breeding and pedigree sales whilst purebred males are generally sold to a specialist finishing unit in Northern England.


Managing a grazing platform with no physical fencing
With the estate's vast acreage and access to an additional several thousand acres of hill grazing in the summer months from a neighboring estate, the farm has the foundation required to scale cattle herd numbers for increased revenue. However, most of this land lacks physical fencing infrastructure, which has been the main limiting factor for previous generations that have farmed the land.
Past management of the grassland has relied heavily on hefted sheep flocks. Hefting is common on open moorland of the UK and occurs when a flock develops a multi-generational knowledge of grazing boundaries, allowing for different flocks to graze on open acreage without drifting together.
While the farm also has a flock of 400 Blackface sheep, the introduction of cattle to the grazing system has been essential to achieving the farm's environmental and profit goals. Sheep numbers will reduce over time as cattle expand.
"Sheep and cattle have vastly different grazing patterns. Sheep are very selective grazers which will cause an imbalance in species diversity and eventually lead to domination by a few species and loss of biodiversity," explains Jez. "Cattle are not selective and will graze out the dominating species that are choking out other growth. The hill also benefits from their dung and a subsequent insect population increase.
"There is a lot of work showing land regeneration is much quicker on upland ground when cattle are grazing. The biodiversity benefits are exponential and not only increase nutrient levels in soil but also in watercourses such streams, rivers and lochs (lakes)."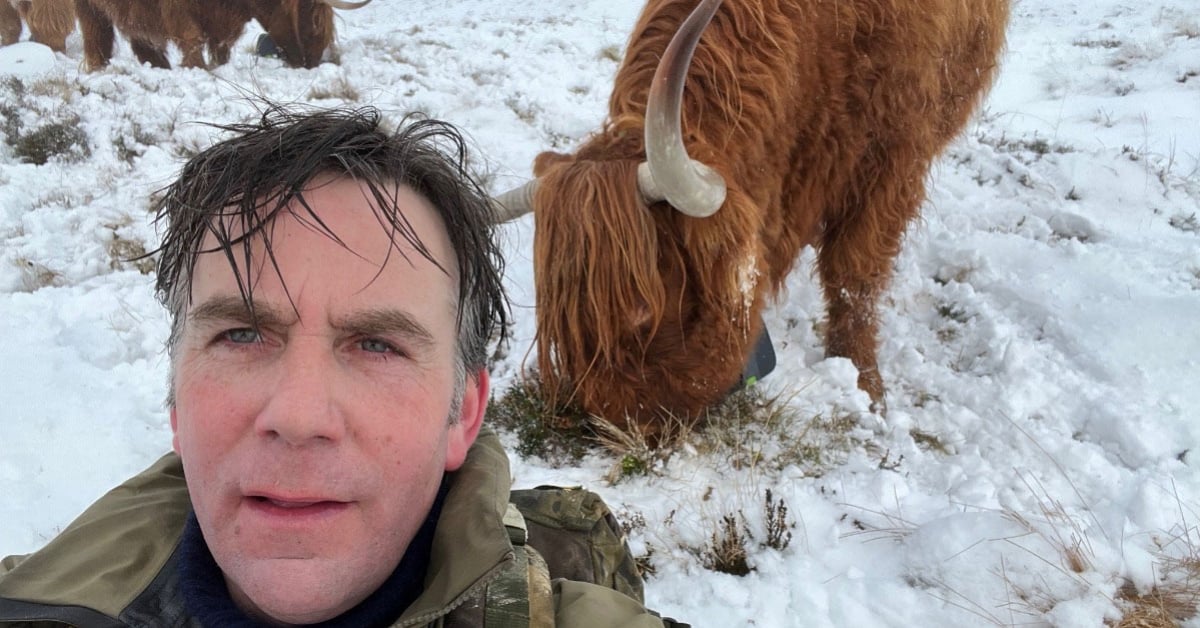 Jez Robinson and his highland cattle in the Highlands of Central Scotland

Adopting Nofence virtual fencing technology
In the summer of 2021, the farm acquired its first set of Nofence collars. According to Jez, the technology has been a game changer for the business.
By using the Nofence app, the couple can create their grazing land and create virtual fields that can be customized to their exact specifications. This feature enables them to account for various variables, such as stocking density requirements, exclusion of hazardous terrain, and watercourses, while also providing grazing pattern data and the flexibility to optimize grazing management of hill ground.
"Nofence virtual grazing technology is excellent at enabling dynamic management of grazing areas by adapting and creating virtual fences," explains Jez. "The analysis tool is one of the most frequently used features, as it shows where grazing concentration has occurred. This allows us to move the fence virtually to exclude areas and prevent overgrazing, ensuring even grazing across the area."
The Nofence app offers the additional benefit of enabling farmers to track the live location of animals 24/7 using their phones. This has a significant impact by reducing the time required to monitor cattle – rather than driving and walking long distances to find and check cattle, the app allows them to be pinpointed and then physically visited. In the UK, livestock farmers are required by law to conduct daily welfare checks. Prior to using Nofence, Jez could easily lose several hours each day trying to locate the herd.
"This has been a significant feature for us as we've expanded our grazing management to take advantage of remote hill grazing on the estate which would previously have been very hard to manage. It also allows us to take advantage of grazing on a neighbour's hill ground from June through to January each year. This additional ground is some 10 miles away from the Home Farm".
In the rugged Highlands, the app is also useful in allowing for the creation of exclusion zones, virtually fencing off dangerous areas such as ravines and bogs. And, if an animal hasn't moved from its location in a while, the system generates a notification so it can be physically checked. This feature provides peace of mind and ensures the well-being of the animals.

Future development
As the farm expands its herd and grazing platform, Nofence virtual fencing will be used extensively. Already, the farm has increased its Nofence collar numbers for 2023.
"Nofence is a great system and enables us to maintain cattle on the hill almost year round with all the environmental benefits that such a system delivers," concludes Jez. "The system's greatest strength is to allow us to impose a virtual e-fence on any area of ground and to adapt and move it as required. This has finally permitted the safe and responsible grazing of the hills and mountains without fencing."